When it comes to spending time gaming, having the right chair or rocker to support your back and provide comfort is essential.  Having a good posture means you can game safely without putting your body under undue strain.  
Gaming chairs for kids come in three main categories.  
For starters there are floor based gaming rockers.  Gaming rockers are floor based seats with no legs which, as the name suggests, can rock back and forth.  Most rockers have audio speakers are so are designed to immerse the gamer in their game through well-positioned sound.  Rockers can have audio connected by wire and bluetooth , with the more convenient Bluetooth models being more expensive.  
Rockers also tend to fold down to be more easily storable or portable.  So if you are tight on space or you are wanting to take your gaming set up with you on your travels regularly then you should consider a rocker.  
Gaming chairs are the more typical swivel chair style seat and come in a range of sryles and sizes as well as a reange of prive points too. PVU models dominate the lower price points with leather options dominating the higher cost models. As with rockers, many gaming chairs come with built in audio options.  
Finally the gaming lounger is more of a LZ Boy style of chair which is a stylish looking recliner.  
Here we review the best 10 gaming chair choices for kids.  

BraZen
Stingray 2.0 >
Wipe Clean
3 – 10
Surround Sound
Wipe Clean
3 – 10
Surround Sound

X Rocker
Aries 2.1 >
Wipe Clean
3 – 10
Surround Sound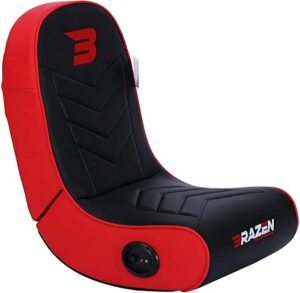 1. BraZen Stingray 2.0
Suitable for ages 3 – 10 years old
First up is the BraZen Stingray 2.0 – this is a kids gaming floor rocker that is fodable.  This chair is compatible with Playstation, Nintendo Switch and Xbox.  t has embedded speakers and these provide a quality sound experience with integrated 2.0 features.  
The rocker connects directly via a cable to these devices or it can be connected indirectly via a screen.  This product is not Bluetooth compatible.  
The Stingray 2.0 is quick to assemble taking one person less than 20 minutes by following the step-by-step instructions.  
There are a number of colourways to choose from including Red/Black/Grey, White/Black/Grey as well as Blue/Black/Grey.  
Suitable for kids up to ten years of age. 
The product is foldable for ease of storage and transportation.  
This product has 2.0 surround sound.  
This sound chair has a small footprint for rooms with limited gaming space- measuring just 56x40x63 cm (LxWxH).  
2. X Rocker Video Rocker
Suitable for ages 3 – 10 years old

This classic rocker gaming chair for juniors has 2.0 sound system mounted in the headrest and these connect to all the main consoles and audio devices like Playstation, Xbox and Switch – all via the 3.5mm cable.  
This chair is super simple out of the box – it comes assembled and you simply need to unfold the chair and connect to your device.  Like most other rockers, this folds down for space saving storage or for when you are on the move.  
This chair is finished in faux leather and has an analogue control panel for making adjustments to the sound and game immersion experience. 
If you are wanting to connect the chair indirectly to your console through a television you will need an additional digital audio transmitter.  
This is a larger rocker is suitable for ages 3 – 10 years old and measuring up at 75x42x64 cm (LxWxH).     
3. BraZen Sabre 2.0
This is suitable up to 14 years of age and ideally under 5'6" in height (otherwise check out the BraZen Emperor X).  
This stylish rocker chair is finished in stylish cleanable fabric.  This Rocker comes with Surround Sound and has both Bluetooth and Hardwired connectivity.  
75x42x72 cm (LxWxH) and while it says it can hold up to 120kg the rocker features works best to 80kg without needing support behind the chair. 
One word of caution is that the Bluetooth does not connect directly with PS4 of Xbox One – but you can connect these indirectly via the TV to which the games console is connected.  However the Bluetooth connection works directly with all other devices.  
For wired connections you need to ensure that you have connected to audio output on the TV.  
If your TV doesn't have analogue audio output then you will require a BraZen Digital Analogue Converter.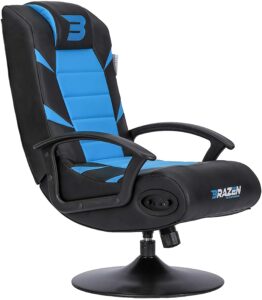 Good for ages 6-13. If adults like the look of this chair, check out BraZen Serpent or BraZen Panther. This gaming chair has a foldable seat, bluetooth speakers and a pedestal base.

The chair rocks and rotates 360 degrees. This is a fixed chair it does not have adjustable back.
Since Sony scramble their Bluetooth signal you need to connect to a PS4 indirectly via the TV.
This PU leather padded seat has a fixed armrest and a disc base and can accommodate up to 80kg load. As such it is a child's chair and is not suitable for moderate sized adults. It can be efficiently stored as it can be folded in half for easy storage.
The assembly of this product is easy as it includes screws for fixing and a step-by-step instructions for quick assembly needing only one person to assemble and can be completed in less than 20 minutes.
6 months warranty.
This needs more space than a rocker since the depth (including the back) is 68cm.
68x54x94 cm (LxWxH).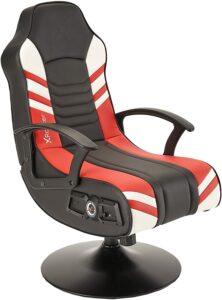 2. X Rocker Aries 2.1
This eSports racing inspired chair has 2.1 surround sound.  Like many kids chairs it is foldable for space saving storage.  
54x72x91 cm (WxDxH). 
Gaming Chairs Buying Guide
For wired connections you need to ensure that you have connected to audio output on the TV.
You simply connect audio cables that comes with the chair to the audio input on the chair and the analogue audio output on the TV (this is the red/white Output sockets). If your TVB doesn't have analogue audio output then you will require a Digital Analogue Converter
More serious gamers use the Bluetooth functionality only for movies and music as connecting to a games console with Bluetooth can result in time lag (latency) issues. If you have no audio output on your monitor you can connect the chair to an Xbox One controller for audio using a 3.5 jack to a 3.5 jack lead
While gaming has slowly shifted into a more adult pastime, there are still countless numbers of games for children to enjoy! From all of Nintendo's output to family-friendly titles like Ratchet & Clank, there's no shortage of games for younger gamers to get into.
But, when it's time to game, where do they plop themselves down? Well, kids need a battlestation just like gamers of any age need. A place to sit comfortably and allow themselves to be fully immersed in whatever fantasy world they have booted up on their favourite console or gaming PC.
The most important part of any battlestation would have to be the ever-supportive gaming chair. To select a good one with just the right amount of comfort and features, it can take hours scouring the internet and comparing options. Especially for a kid's gaming chair, of which there are relatively few. That's why I've saved you the trouble of doing the legwork to find the best kid's gaming chair with this article covering your five best options. You're welcome!
Techni Mobill Kids Gaming and Student Racer Chair with Wheels
This first option is a great one for parents or guardians looking for something that is functional without breaking the bank. Coming in at just $84, this kid's size gaming chair from Techni Mobili has just about everything you need: a pneumatic adjustable seat to fit kids of different heights, thoughtful casters that are designed to not scratch up your wood floors, and flexible black/blue upholstery that takes shape and stays comfortable.
The "racer" style design is both eye-catching and functional, keeping your child's posture straight while looking cool. Posture is just as important for homework as it is for gaming, so this chair even pulls double duty! Between the adjustable pneumatic seat and the 140lbs weight capacity, this chair will serve your child well for years to come, making it a great investment as well.
This chair doesn't have a ton of fancy features or extra bells and whistles, but it does give you exactly what you need at a decent price, allowing it to just make our list at number 5.
JoyFLY Gaming Chair for Kids
Next up is another racer style chair from JOYFLY. This one has a much higher back than the previous, and as a result has greater ergonomic lumbar support. The tall back also has a free rocking function, which allows it to recline easily to accommodate a more relaxed posture.
The soft yet durable PU leather provides plenty of plush comfort while also being resistant to abrasions, stains and scratches. This super material will keep the chair looking new for quite some time! Under the soft PU leather is the high-density memory foam padding that makes up the base and back of the chair. This foam molds to bodies of all sizes, providing the perfect level of comfort for anyone who sits in it.
You can rest assured that your child is being cradled in the safest chair possible thanks to the JOYFLY's 5-prong base that has been rated for up to 1400 pounds of weight. With that kind of rating, it's unlikely that even a few kids sitting in the chair at the same time will break it! Can't ask for much more than that for $120.
OFM Racing Style Chair
The OFM Racing Style Chair is another great option coming in at around $115. The "Generation 2.0" of this chair offers supreme comfort with its enormous 4 inch thick seat cushion. The high-density foam that makes up that cushion will keep your child supported and comfortable, and the chair's relatively high back (not as high as the JOYFLY's) is good for maintaining good posture.
Something this chair has that the previous don't is the unique flip up arms. These padded armrests provide the support that is needed for proper keyboard and mouse gameplay, as well as providing a good place to rest your arms if you're holding a standard controller. These flip up arms also maximize space space savings by allowing you to fully push the chair under a desk, even if it is quite low.
The OFM Racer also has plenty of ergonomic features to make sure it fits children of all shapes, sizes, and ages. Advanced features like center tilt and adjustable tilt tension make for a comfortable experience even when reclining
Okeysen Gaming Chair 
For the advanced gamer, there is the Okeysen Gaming Chair. This chair is a cut above the rest with awesome features at a decent price of $119. This is also a racing chair (most gaming chairs are), but its unique high-back has been specifically designed to provide all-day comfort, luxury, and support.
The back reclines to an incredible 150 degrees with infinite locking positions, so you can find and keep your favorite position. The comfort and relaxation this provides can be the difference between a win or a loss in even the most heated Rocket League match.
Okeysen even ensures your happiness and backs it up with a two-year warranty and full refunds within 30 days under any circumstances. With that kind of trust and faith in their product, you know Okeysen has something very special with this gaming chair. Also, this one has a built-in footrest. How cool is that?!?
Amazon Basics Kids/Youth Gaming Recliner
However, if you want the ultimate in comfort for your child, and money is no object, you can't go wrong with the Amazon Basics Gaming Recliner. This thing comes in at a whopping $180, the most expensive on this list, but what you get is more than worth the price.
Instead of the traditional racing style chair, this particular seat is an actual recliner. You know, that chair in your family home that you couldn't pry your dad out of? That, but scaled down to fit a kid comfortably.
This chair is suitable for ages 3 and up, with a 90 pound weight limit. The chair has a plush lumbar pillow that matches the rest of the chair's design, because it's never too early to teach proper posture.
When this chair is reclined, your kid is just as likely to take a nap as they are to keep playing their favorite game, but all that means for you is some guaranteed peace and quiet. Isn't that all a parent can ask foTec